If you'd like to squeeze a bit more juice out of PowerPoint then we think you'll like what we are about to suggest.
Put simply, you can easily make video content for social media using PowerPoint!

If you've always struggled with putting out engaging social media content, and you realise the power that video can have, then this is a must read for you.
Where did this idea come from?
Just recently we started to promote an advanced PowerPoint training course here in our home town of Bristol. To help promote the event on LinkedIn (follow us there) we decided to use PowerPoint to create an eye catching video that would attract attention and of course demonstrate what PowerPoint was capable of.
As you'll see in the post we have given the impression that a series of hot air balloons are taking off in the bottom part, then rising up and crossing over into a completely separate LinkedIn post. It definitely grabbed peoples attention when scrolling through their LinkedIn feed, and a lot of people don't even believe us when we tell them it's been made entirely in PowerPoint!
It's been a great way to attract people to our PowerPoint training, and if you want to create video content for any social media channel here are the steps to follow.
How to create video content with PowerPoint
The first step is to know exactly which platforms you want to make a video for and get the correct dimensions.
For instance the recommended size for a Instagram story ad is 1080 by 1920 pixels. But a vertical video for Twitter is recommended to be 1200 by 1900 pixels.
It's a bit of a mine field but all of the dimensions, as well as video duration and format can be found on the link below from Influencer Marketing Hub: https://influencermarketinghub.com/social-media-video-specs
Once you know what you're working to open PowerPoint and follow these steps:
1. Go to File > Page Setup. Select the custom option and enter the desired size.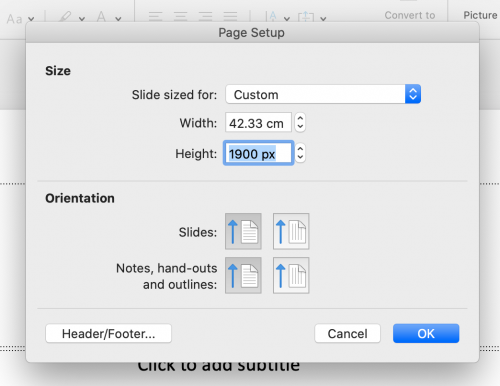 NOTE – You will need to manually type in 'px' at the end of your measurement. There is now way to select pixels instead of cm or inches.
Step 2: Creating your video
This is the fun part, and here are some of our top tips:
AVOID BULLET POINTS – People want to be engaged, not bored out of their minds!
BE AWARE OF TIME – Impactful social media videos are short, eye catching, and to the point.
BE VISUAL – Use high res imagery and bright colours. You're competing in a busy space.
ANIMATION – We'd recommend using the Morph transition between slides. Learn how to use it here.
MINIMAL WORDS – Try not to write an essay. Use key words only and make them nice and big.
Step 3: Export your video
Once you are happy with your content and have seen it flowing nicely in presentation mode, it's time to export your video.
Go to File > Export.
 Select either MOV or MP4 format as shown below.
Finally, set the timings for your slides and click Export. 
You might need to do 2 or 3 exports so that you can go back and adjust timings and animations, but you'll soon get the hang of it.
We are pretty sure you'll be impressed by the results.
No more expensive video animations that get used once and nobody can edit!
Using this technique any PowerPoint user can create fantastic videos for any social media channel.
Give it a try and let us know if you'd like any support getting started.